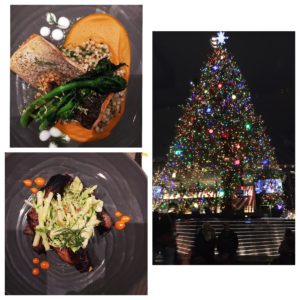 After the debauchery of Thursday's Thanksgiving dinner, an orgy of blood orange and lemon drop martinis (both vodka so its ok) turkey, sweet potato casserole, stuffing, and three pies for six people, you'd think I'd go clean for Black Friday. I started out good – by increasing my step count running through the mall, boxercising at the sale rack with my fellow shoppers.  I tried to follow the exercise up with a kale smoothie thanks to my trusty old NutraBullet.  Well…forget that!!
Turns out Thanksgiving dinner is really the gateway meal to four days of a holiday food fest. Plus, my kids were in town. I knew I could guarantee more time with them if I feed them well over and over and over! So, as a follow up to turkey day, I went with my husband and our two babies to PARC.  From its website, I learned about its interesting menu and impressive chef. I was able to snag a rez on Opentable. Nice and easy.
I headed downtown and then drove repeated circles around Campus Martius until I realized that the restaurant was actually in the middle of Campus Martius. I parked in a nearby garage on Woodward and walked  to the restaurant. The atmosphere around Campus Martius was festive. People were walking around with Nike bags full of purchases. The skating rink was hopping. My table was by one of the floor to ceiling windows that gave me the feel of being both inside the restaurant and outside where the action was taking place. I had a great view of the Campus Martius Christmas tree and skaters as I ate. The food was fantastic.  We had salmon, branzino, rigatoni, baby back ribs, tuna tartare.  All top quality and the service was great too. There was plenty of action inside the small, modern, comfortable space. There was a large bar in the back where people were two-deep enjoying elegant cocktails and lively conversation. I was treated to plenty of Led Zeppelin, The Who and the Rolling Stones. Given the choice of music and prices, apparently Parc caters to my kind of middle aged crowd!